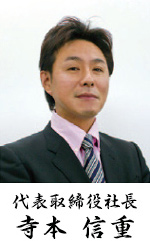 Our company, Teramoto, was founded in 1927 (Showa 2) for the purpose of manufacturing and selling cleaning tools, hoping that we can provide products that can be helpful to the realization of a more comfortable and healthy living environment.
Since then, our living environment has changed significantly. But now we have already celebrated our 90th anniversary, and continued to run our business regarding the basic policy "always meet the needs of the times and learn from the voices of our customers" as the core of CS management./p>
Fortunately, our company has now grown into a comprehensive manufacturer dealing with environmental beautification supplies that are suitable for a wide range of scenes from ordinary households to public spaces.
In addition, as a pioneer company aiming to help create comfortable environments, Teramoto's Yao Factory acquired ISO14001 and ISO9001 certification very early. We focus on manufacturing based on compliance and consideration for reducing environmental load, and at the same time deal with daily activities committing to provide customers with the highest quality and service.
President
In recent years, Environmental issues have become more and more serious, and it's necessary to preserve the global environment now. As one of the members of the society, Teramoto aims to create comfortable environments based on the harmony between the global environment and living environment, and will work diligently to be a company that satisfies diversifying needs.
We sincerely hope that we can get your support in the years ahead.