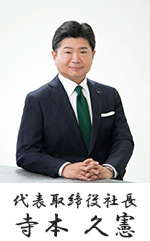 Teramoto was founded in 1927 under the desire to offer products that contribute to a comfortable living environment.
Since the beginning, we started manufacturing metal mats based on the belief that our products should be durable and long-lasting. We have continued progressing with our basic stance of "always meet the needs of the times and learn from the voices of our customers" as the core of our CS management. Today, 95 years after our founding, our product lineup has grown to more than 3,000 products, and we have expanded our field of activity to include homes, office buildings, commercial facilities, and public facilities, supporting society by providing a comfortable environment as a comprehensive manufacturer of environmental beautification products.
In recent years, our products have become indispensable for the safety, security, and health of society even in times of drastic environmental changes such as climate change and pandemics, reaffirming the significance of our existence.
In addition, as a leading company that creates comfortable environments, we have begun to develop new products and services utilizing IoT and sensing technologies. Furthermore, we are actively developing initiatives to achieve the Society 5.0 for SDGs concept proposed by Keidanren (Japan Business Federation), with which we are affiliated.
Currently, environmental issues are becoming increasingly serious, and the preservation of the global environment is a pressing issue. Teramoto aims to realize a comfortable and sustainable society based on harmony between the global environment and our living environment. We will continue to respond to diversifying needs by emphasizing ESG perspectives and collaborating with various stakeholders.
We sincerely hope to receive your continued support in the years ahead.